Teresa Dumpe, C.R.N.P, is a family medicine provider who attended University of Maryland, Baltimore for both her undergraduate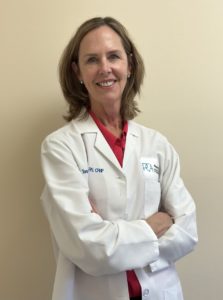 and graduate nursing degrees. As a medical provider, she enjoys chronic health maintenance and partnering with her patients to discuss lifestyle changes that will help them achieve their best health and improve their overall quality of life.
Personally, N.P. Dumpe is active, life-ling runner. She has completed multiple ultramarathons and countless half marathons. In her mid-40's, N.P. Dumpe took her love for running to her next level and started running triathlons and Half Ironman's. She completes the Ironman 70.3 at Mont Tremblant in Quebec, Canada. In addition to her athletic endeavors she enjoys being in nature, dabbling in art, spending time with her husband, their three sons, two cats and dog.