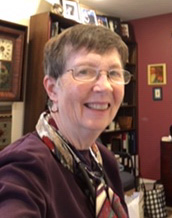 Dr. Mary E. Money grew up in Fairfax County, Virginia outside of Washington DC. She attended Westhampton College of the University of Richmond for 2 years; in 1970 received a BS in Biology along with being named to the Phi Beta Kappa Society from the University of New Mexico; and returned to the Medical College of Virginia, Richmond, Virginia to get her MD degree in 1974.
Her post-graduate training was at the University of Minnesota with a focus in Internal Medicine, culminating in serving as the Chief Resident in Internal Medicine and receiving the Board Certification from the American Board of Internal Medicine. In 1979 she and her husband, Dr. Paul Waldman (a dermatologist) settled in Hagerstown, Maryland. They have 2 children who were partially raised in her office but are now grown. Her daughter is married and is living in Switzerland, teaching history and her son is living in Washington, DC working in business.
She has served as a Clinical Associate Professor in the Department of Internal Medicine for the University of Maryland School of Medicine since 1998 by proctoring medical students in her office.
She enjoys trying to be a detective and careful listener for each of her patients problems which has honed her skills as a clinician. However, as an internist, she treats all adult medical problems and works closely with her colleagues who are specialists when the problems exceed her expertise.
Research on Irritable Bowel Syndrome Diarrhea and Treatment with Enzymes
Since 2001, she has been involved in trying to help patients who have had what is currently recognized as the "Irritable Bowel Syndrome-Diarrhea", focusing on those who have the diarrhea occurring after meals. Consequently, she has discovered that there are several drugs that seem to be effective for the majority of patients if taken immediately before eating: bile acid binders and digestive enzymes. She has had her research published. In June, 2012, she with her coauthor, Michael Camilleri from the Mayo Clinic in Rochester, had the "Review: Management of Postprandial Diarrhea Syndrome" published in the American Journal of Medicine, Volume 125; number 6, pages 538-544. She has been working with doctors from the University of Pittsburgh, Mayo Clinic, and recently Baylor College in Houston, Texas. Based upon the research it is beginning to appear that this condition can be due to multiple different conditions including a possible genetic defect in the genes that affect the digestion enzymes of the small intestine, the ability to reabsorb bile acids, small bowel bacterial overgrowth, prior infections that may have damaged the digestion enzymes, along with other possibilities.
She has been interviewed by the local media and has presented lectures about her research to attempt to increase public awareness of the use of digestion enzymes and bile acids. She provides comprehensive consultations for this condition at her office in Hagerstown. Please use the links below to access more information about the research on the use of enzymes for diarrhea after meals.
Diarrhea after Rectal Surgery
Recently, she has also sought to understand the mechanism for the change in bowel habits that occurs after rectal surgery. She tries to explain these causes to patients with this problem and has suggestions on management. (See What To Expect after Rectal Surgery under Diarrhea research).
Community Health
Dr. Money has focused on providing comprehensive preventive and diagnostic health care for her patients. In addition, she has been an advocate for the community health by serving on the Washington County Hazardous Waste Committee in 1991 and was the Medical Specialist for the State of Maryland on the Maryland Hazardous Waste Management Task Force in 1993-95. These efforts resulted in the banning of the burning of hazardous waste in cement kiln incinerators in Maryland.
Recognition of Medical Problems associated with Avandia
She received national recognition for her astute recognition of the deleterious effect of Avandia, (rosiglitzone, a diabetic medication), among her patients by alerting both the drug company and the FDA in 2000, and subsequently testifying before the Plaintiffs Hearing Committee about Avandia in 2009.
** Dr. Money will only be available for virtual visits with select insurance companies until further notice**